Purple Turkey feather toy: Tamboo Flyers by CatTamboo Pet Toys. Tamboo Flyers are unique wand toys for cats and small dogs. These feather toys are not like other wand toys. The wands used in Tamboo Flyers are actually rods. More like a light weight fly rod, the Tamboo Flyer® is long and tapered. At the end of the rod is a Cat Fly. Cat flies™ are feather toys that go on the end of Tamboo rods. Rods are available in three different sizes. Get your today to discover why cats and humans alike are having crazy fun Doing the CatTamboo!
---
DESCRIPTION for Purple Turkey Feather Toy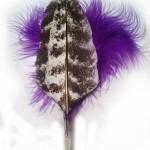 This purple turkey feather toy is an interactive cat toy with a tapered Tamboo pole/rod and wild turkey feathers. The wild turkey feathers come in two types: wing and tail. The wing feathers are black and white striped. Due to the larger size of these feathers, we do not offer a lightweight rod option for this particular pet toy. The fluffy purple colored feathers are marabou. Tamboo Flyers require only a pencil grip and small writing type hand or finger movements to make the purple turkey feather toy fly all over the house and make the cats go crazy and the dogs spring to their feet!
---
CatTamboo® toys are fun for pets and people!
---